The Pokemon Presents for February 2023 featured a range of surprise announcements, including major DLC expansions for Pokemon Scarlet and Pokemon Violet, and a release date for the long-awaited Pokemon Sleep app. Pokemon Concierge, a brand new stop-motion animated series was also announced during proceedings, alongside updates for the Pokemon Tracing Card Game (TCG), Pokemon Masters EX, Pokemon GO, and Pokemon Cafe ReMix.
Here's everything major announced during the latest Pokemon Presents.
---
Pokemon Concierge is a new stop-motion animated series
During the latest Pokemon Presents, a new animated series known as Pokemon Concierge was announced. This stop-motion adventure features a young trainer who travels with an adorable Psyduck – but beyond this, we know very little about the story.
It's set to stream on Netflix in future, but does not have a firm release date.
Ahead of this announcement, two brief updates were provided for the Pokemon TCG:
The Pokemon World Championships 2023 will take place in Japan, and will feature competitions across all mainline Pokemon games, including Scarlet and Violet, Go, and Unite.
A new 'Classic' Trading Card Game set was teased during the Pokemon Presents. These cards will resemble the original, first release of the TCG. They will also seemingly come in a fancy case, and include a playing board for battles.
---
Pokemon Unite, Cafe ReMix, and Masters EX get major updates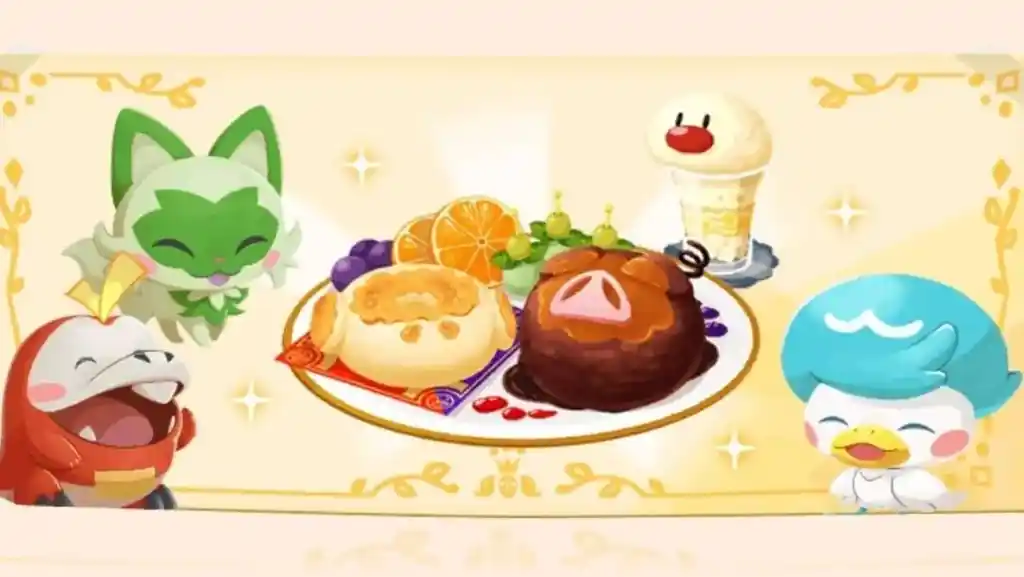 Next up, a range of updates were provided for each Pokemon mobile game. Here's a quick rundown of everything major revealed:
Pokemon Unite will get a new fighter: Zacian. The Pokemon Sword mascot will wield the Legendary Sword, and can use it to initiate devastating attacks on the MOBA battlefield. Players can also now use the code 'POKEMONDAY' to redeem a special Gold Zacian Boost Emblem.
Pokemon Cafe ReMix is welcoming the Scarlet and Violet starters – Sprigatito, Fuecoco, and Quaxly – into its cosy food haven, alongside themed dishes from Paldea. They're available now, and will depart on 17 March 2023. In addition, a free in-game chef outfit was revealed for Greninja.
Pokemon Masters EX is expanding, with new Galar trainers and iconic Gym Leaders joining the game across a range of events. Between now and April, these events will introduce: Hop and Zapdos, Bede and Articuno, and Marnie and Moltres. Players are now also able to redeem 3,000 gems for free, and scout up to 100 sync pairs.
---
Pokemon Sleep finally gets release date
Pokemon Sleep was officially re-introduced during the latest Pokemon Presents, and it was given a release date of Summer 2023 [Northern Hemisphere]. This app is designed to allow people to track their sleep patterns with Pokemon by their side.
It essentially turns the act of sleeping into a mini-game, and rewards players with cute Pokemon companions when they wake up.
---
Pokemon GO Plus+ device announced
Next up, the Pokemon GO Plus+ device was announced. This gadget resembles a flat Poke Ball, and works with both Pokemon Sleep and Pokemon GO. It will allow players of GO to catch Pokemon, and automatically spin Poke-Steps so all rewards are gathered along their travels.
It will also allow Pokemon Sleep players to better track their sleep, and contains a digital Pikachu inside that will become friendly with players over time.
---
Pokemon Scarlet and Violet are getting new features
Next up, new features for Pokemon Scarlet and Pokemon Violet were detailed. These include:
New Tera Raids featuring Walking Wake (Past Suicune) and Iron Leaves (Future Virizion).
Pokemon GO integration, in the form of postcards that can be sent between apps. If you choose to send a postcard from GO, you will see a new form of Vivillon in the Scarlet/Violet field, and be able to catch Roaming Form Gimmighoul in GO.
Pokemon Home integration is also coming to Pokemon Scarlet and Violet – in early 2023. This will allow you to transfer your favourite Pokemon into and out of the game.
---
Pokemon Scarlet and Violet: Major DLC expansions announced
Pokemon Scarlet and Pokemon Violet are set receive major expansions in 2023, as part of their new storyline, titled: The Hidden Treasure of Area Zero.
The first story chapter will be called The Teal Mask, and it will be available in Autumn 2023 [Northern Hemisphere]. This will take players into a new Paldean region, known as Kitakami.
The second story chapter will be known as The Indigo Disk, and it will be available in Winter 2023 [Northern Hemisphere]. This will take players to the mysterious Blueberry Academy, where they will uncover a brand new mystery.
---
You can check out the latest Pokemon Presents for yourself via YouTube.