IGEA have released the results of their annual game developer survey, and it shows that, despite the pandemic, the sector grew its revenue by 29%, with surveyed developers reporting a collective $184.6 million in revenue.
The IGEA statement reads: 'The survey highlights the resilience of the Australian video games industry, which has the potential to become a digital manufacturing powerhouse having experienced increased growth despite limited government support and the pandemic.'
'The survey highlights the resilience of the Australian video games industry, which has the potential to become a digital manufacturing powerhouse having experienced increased growth despite limited government support and the pandemic.'
IGEA
The 1,245 game developers who responded to the survey had a generally positive outlook for the future of game dev in Australia. Despite the pandemic, 76% of studios expect their revenue to remain stable or increase. 61% of studios reported confidence that they would not close in the foreseeable future.
READ: How has COVID-19 affected the local games industry?
While 18% did report 'serious concerns' about the next 12 months of operations, 67% of studios were actively planning to hire more staff in the next year.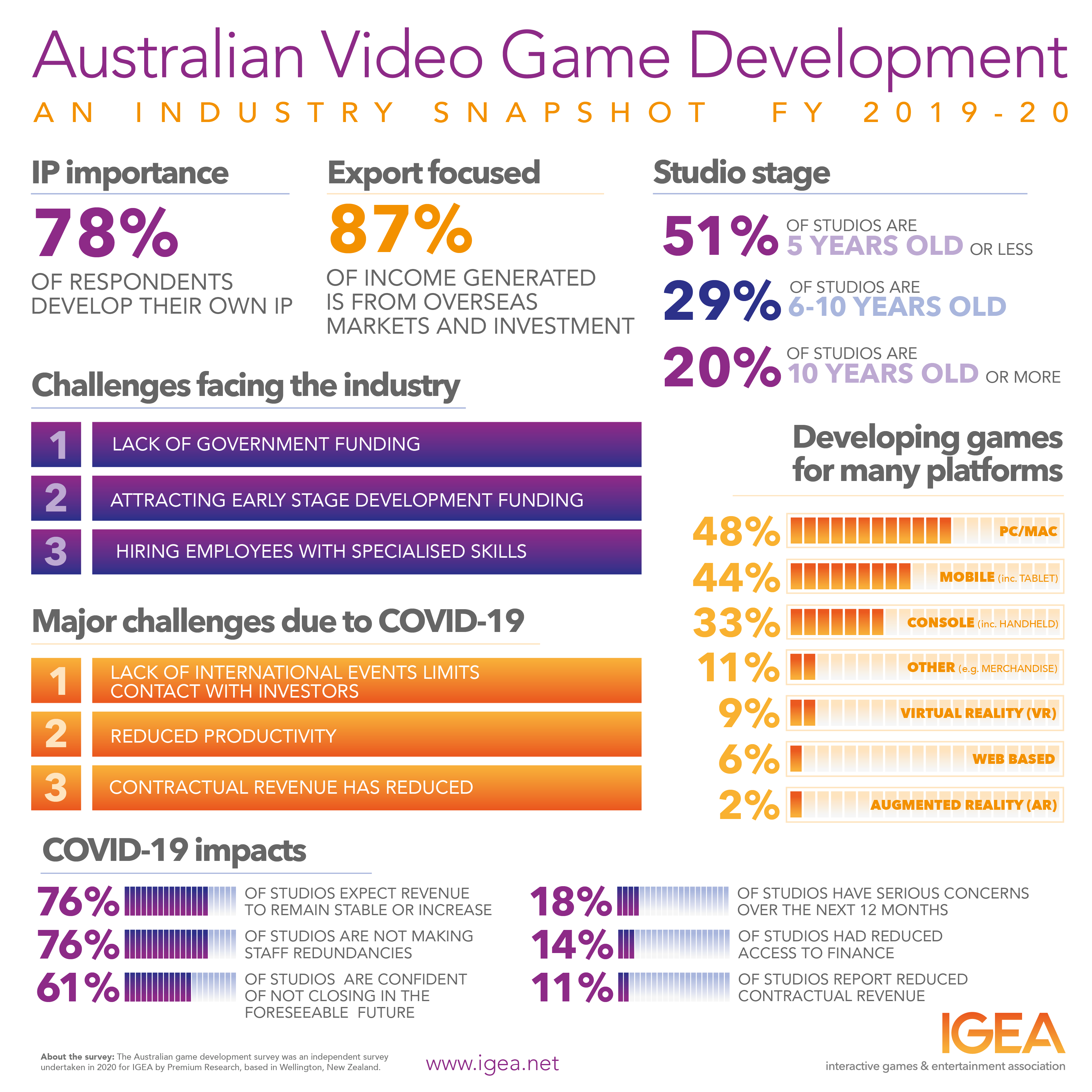 Image via IGEA.
IGEA have consistently campaigned for federal funding for videogame development, as well as a federal tax offset for game development. These numbers are exciting, and certainly support the IGEA framing of the videogame development sector as a high growth area that will be able to create and sustain jobs going into the future, which is already apparent despite a lack of federal support. 
The impact of pro-games industry policies is also apparent in these results. In 2020, the Marshall Government instituted the first Australian tax rebate for game development called the South Australian Video Game Development Rebate. They offered a 10% production offset for videogames in development, including serious games, and games that were still unfinished at the end of the financial year.
In the 12 months since the last IGEA report, the number of game developers in South Australia seems to have risen, with South Australian's now comprising 16% of the local workforce, compared to 9% the year before.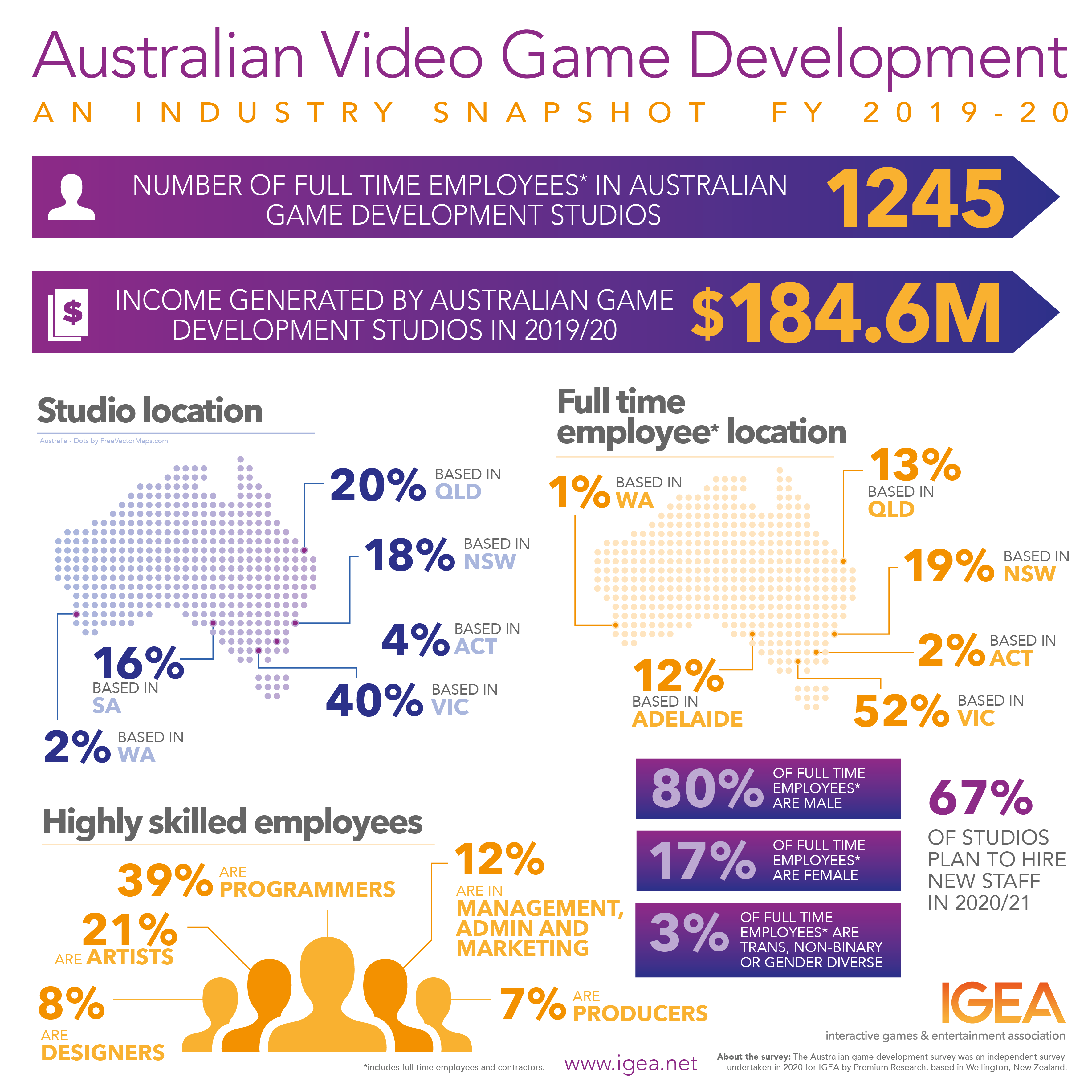 Image via IGEA.
But the numbers aren't all good. 80% of respondents identified themselves as men, while 17 percent were cis women, and a vanishing 3% were trans and/or non-binary. This is technically a step backward from 2019, which saw 78% of respondents identify themselves as men, but the gender split has remained roughly the for the last eight years.
There has been some improvement: 2012 saw a worrisome result of 92% of respondents being men. But that industry progress seems to be stagnating, despite gender parity programs like Girl Geek Academy, the Working Lunch, and NodeGirls, which encourage and support gender diversity the STEM and games workplaces.
Deep Unrelenting Sigh. pic.twitter.com/rLuf3E6rXv

— Luce🦷🥃 (@LucyCrimefightr) January 27, 2021
It is good news for everyone that the local games scene has remained so strong during COVID-19. It's an achievement that few other industries have managed during the pandemic. Australia's strong local IP, and the pro-games policies adopted by South Australia, Victoria, Queensland and Tasmania, have made this success possible.
But it feels hard to celebrate the increasing revenue of game development when that revenue is so profoundly skewed towards a single group.
This is not an issue that only exists in the games industry, however. The pandemic has disproportionately affected women's employment, internationally and locally. In August 2020, during Victoria's strict lockdowns, the state recorded its highest rates of unemployment in women in its history. Internationally, study after study found that the pandemic disproportionately affected women's careers: in the UK, women with children were one and a half times more likely to lose their jobs or be furloughed than men with children; a study in the US found that while women make up only 39% of the workforce, they account for 54% of the job losses caused by COVID-19.
There are also industry-specific factors that make the games industry a particularly difficult environment. The industry is notorious for its poor career pipelines for marginalised people, including women and non-binary people. All too frequently, they are driven out of the fields by toxic workplace cultures, unstable jobs, or the inability of the industry to accommodate other pressures that inordinately fall to them, like parenting and carer duties.
I think the issues with this industry are more about toxic men in leadership than creating opportunities and promotions for diverse and marginalised people

— ngoctmvu⬛️🟡🟥 (@ngoctmvu) January 28, 2021
There are organisations and studios that are taking active steps to change this culture. Melbourne studio League of Geeks introduced a menstrual leave policy last year, and Adelaide-based studio Mighty Kingdom offer flexible hours, part-time work options, and the option to work from home, which makes their roles more accessible to a wider variety of applicants. It's also important to note that a survey can only represent those who fill it out; the gender gap may be less (or more) pronounced in practice than it appears here.
As the videogame industry continues its exciting trajectory of growth, studios will have to take active measures to avoid this exclusionary tendency; this industry should be designed for more than one player.