The latest PlayStation State of Play presentation focussed on upcoming magic adventure Hogwarts Legacy, with around 20 minutes of new information about the game. Ahead of the show, there was plenty of discussion about what it would focus on – and whether a release date would be announced. In the end, there were some rather juicy reveals during the show.
Here's everything major announced during the Hogwarts Legacy State of Play on 18 March.
This article has been updated since its original publication.
Hogwarts Legacy's extended gameplay trailer is impressive
The Hogwarts Legacy State of Play kicked off with a brand new trailer for the game, featuring a student walking through the grassy grounds of Hogwarts. It confirmed Centaurs will appear in the game, as well as armoured Trolls, Dragons, and Octopus-faced beasts.
Following this moody teaser, the State of Play showcase transitioned into third person gameplay demonstrating how players will be able to wander the grounds of Hogwarts.
It looks like the game has a solid character creator, which then leads players into one of four unique common rooms. As with other classic Harry Potter games you'll get to attend various classes in Hogwarts Legacy, learn more about magic, and meet a range of professors.
Learning spells and duelling will aid your growth
Duelling will play an important part in the game – this appears to take place via real-time attacks – and players will be able to level up to face down more powerful enemies.
Brewing potions will also play an essential part in growing your abilities.
When you're not in class, you'll be able to travel through Hogwarts and explore a range of iconic locations – including underground spas, and the kitchens where the House Elves cook the daily Hogwarts feasts.
In addition to exploring Hogwarts, you'll also be able to explore outside the grounds of Hogwarts as you work to uncover whether the wily Goblins are planning a rebellion, and whether dark forces are mounting in the world outside.
Combat in Hogwarts Legacy is mostly ranged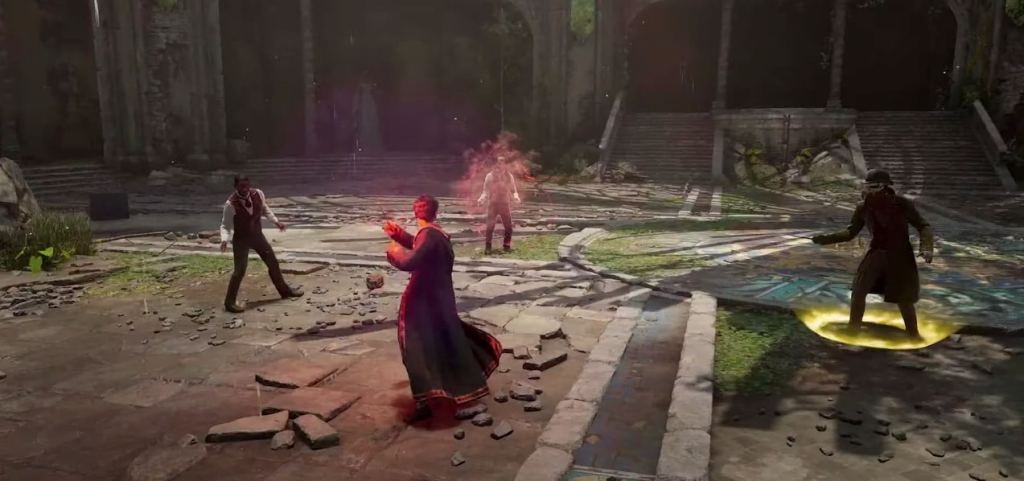 Combat is relatively hands-off in Hogwarts Legacy, in that you'll be using deadly spells in ranged, explosion-heavy attacks, rather than fighting hand-to-hand.
These spells will also come in handy for a range of other reasons, including puzzle solving and exploration in the game's wide open world.
Iconic Harry Potter locations can be explored
The Room of Requirement is a special location in the game that allows you to grow plants and gather items you may not find in your journey. This will aid you in your spell casting and potion making.
In addition, while you're wandering the grounds you'll also be able to travel all the way to Hogsmeade, the populous village containing various magical shops.
It appears you can get there by walking, by broom, or by flying on what looked to be a Hippogriff.
Hogwarts Legacy: Release Date
Hogwarts Legacy has been confirmed to launch in Holiday 2022.
The State of Play gameplay presentation concluded with this announcement.
While there's no firm release date yet, Holiday 2022 isn't too far away. Stay tuned to hear more about Hogwarts Legacy in future.