Future of Play Direct returned in June 2023, with an array of game announcements celebrating upcoming projects from around the world. Alongside some returning favourites, like The Wandering Village and Gourdlets, this showcase also featured a bundle of world premiere trailers, demo reveals, and even a glimpse at plans for the niche Playdate handheld gaming console.
Here's every game featured in Future of Play Direct 2023.
---
Future of Play Direct 2023 | Games
---
Yasuke: A Lost Descendant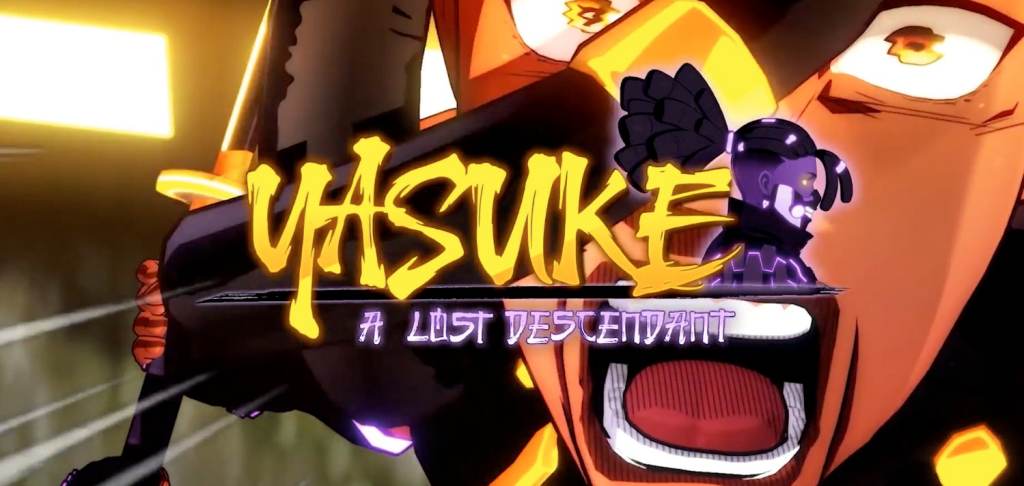 The first trailer of Future of Play Direct 2023 was for Yasuke: A Lost Descendant, an action-adventure game starring a super strong samurai with parkour-liked traversal abilities. This game takes inspiration from the story of Yasuke, who is believed to be Japan's first African samurai. It does not currently have a release date.
Atomic Picnic
The next trailer was for Atomic Picnic, a new adventure game set in a bright, anime-style world, starring characters defeating strange creatures with a range of guns. In the game, up to four players will travel in co-op together, using their skills to take down beasts in rougelite action. It's coming to PC in the future, but does not have a release date yet.
Cavern of Dreams

Next up was Cavern of Dreams from Bynine Studio, one of the Super Rare Originals. This game is heavily inspired by N64 and PSOne-style platforming games (Banjo-Kazooie, Croc, Spyro) and stars a young dragon named Fynn searching for dragon eggs, and attempting to thrive in a hostile world. As announced during Future of Play Direct 2023, the game is officially launching for PC on 19 October 2023.
Rune Fencer Illyia
This was followed by a trailer for Rune Fencer Illyia, a Castlevania-like gothic side-scroller starring a young girl facing off against roaming ghouls and beasties. She has a whip at her disposal – of course – and can spend her time in the game wandering castles, cooking, or fishing, before taking down towering bosses. The game is coming to PC and consoles, and is available to wishlist now.
Ritual Night
Ritual Night is a game of social deduction that stars small bean-like creatures taking on various tasks in a spooky, eldritch landscape. Completing these tasks will eventually contribute to the summoning of Cthulhu – but players may interrupt, prank, and sabotage proceedings in Among Us-like action. The game is launching in Autumn 2023 [Northern Hemisphere]. The beta is available now.
Techtonica
Techtonica was up next. In this first-person crafting game, players will create and maintain automated conveyor belt systems that aid the creation of mechanical landscapes and structures in a sci-fi world. The game launches for PC on 18 July 2023.
Arctic Awakening

This was followed by a trailer for Arctic Awakening, an exploration adventure game where you wander through a frozen post-apocalyptic wilderness, accompanied by a small robot companion. You begin the game after a plane crash, and must set out to find your co-pilot and discover the mysteries of your new home. It's now available to wishlist on Steam.
REKA
In REKA, you play as a young witch serving under the mythic Baba Yaga, who roams a dark world in her house with chicken legs. You'll be able to ride this hybrid home-creature, or depart its comfort to discover items in swamps, villages, and other locales. It's coming in 2024.
Love Shore
Up next was cyberpunk dating game Love Shore, which features a cast of characters trying to survive and find love in a neon-drenched world. You'll play as Sam or Farah, two heroes working to uncover their origins, and forge relationships in a harsh and corporation-ruled world.
Demon Spore
The next featured game in Future of Play Direct 2023 was Demon Spore, a creepy sci-fi adventure game where players must escape from strange tentacle spores and oozing beasts after a failed lab experiment. The action plays out from a top-down perspective, and in blurry VHS style. It's available to wishlist now.
Psychroma
Psychroma is a cyberpunk pixel-narrative adventure game featuring a very creepy computer, and some shockingly gory, but extremely intriguing imagery – a half-broken robot doll, eyes oozing from cavities, graphic surgery, burning buildings, blood oozing from pores. It launches in February 2024, and is now available to wishlist on Steam.
Playdate Console
This was followed by a brief update for the Playdate handheld console, which comes with a crank. It was essentially an advertisement that spotlighted the latest game releases for the device: Faraway Fairway (Hedgehog Dreams), Oom (Gregory Kogos), and Quantum Phantom Basketball (BRENDA).
Solarpunk
Solarpunk was up next, with a new gameplay trailer. In this survival game, you'll journey alone or with friends through floating islands, discovering new structures and items to craft as you build a personal haven. The game's Kickstarter campaign is now live.
Wildmender
Wildmender followed. In this game, you are a young wanderer journeying through a barren landscape discovering beautiful sights and collecting items to build a desert garden, all while uncovering the secrets of the land. A demo for Wildmender will be available during Steam Next Fest.
Bombing!! 2: A Graffiti Paradise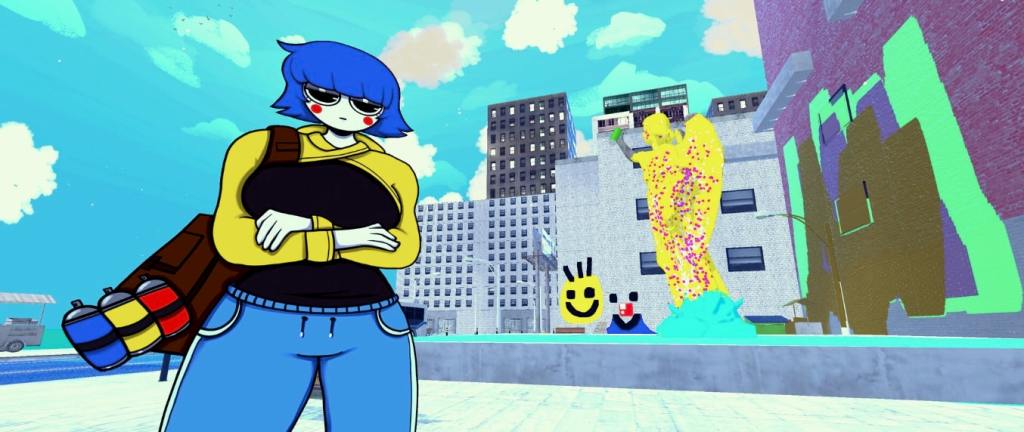 Graffiti simulator Bombing!! 2: A Graffiti Paradise got a release date reveal during Future of Play Direct 2023. In this open-world sandbox, you'll graffiti to your heart's content, using the game's custom paint mechanics to bring your artistic visions to life. It launches for PC on 27 June 2023.
In Stars and Time
In Stars and Time is an upcoming adventure game where your hero, Siffrin, gets stuck in a time loop as major tragedy strikes their adventuring party. The action plays out in turn-based battles, and appears to be inspired by classic 'unfair' RPGs with one-hit kills. The game will launch for PC, Steam, and PlayStation consoles in future.
Hermit and Pig
In Hermit and Pig, you play a lonely hermit who travels a wilderness alongside his trusty truffle pig. Together, both must explore forest landscapes discovering secrets, solving mysteries, and facing off against mysterious threats in turn-based battles.
Lets! Revolution!
Let's! Revolution! was up next. In this gorgeously-coloured Minesweeper adventure, you must solve artistic puzzle boards by using the skills of powerful warriors. New puzzle-solving skills can be gained in your quest, with each specialisation bringing you closer to peace. The game launches on 19 July 2023.
Space Chef
Space Chef is an action-adventure game where players embody a chef working in a sci-fi future – although many of the meals they create are extremely unique. In the game, you'll travel from your home ecosystem to various wilderness planets, in the hopes of nabbing rare ingredients (including beast meat) as you cook up special dishes. The game is available to wishlist now.
Word Factori
Next up was Word Factori, a word-building game where you create chains of factories, weaving letters together to form special words, and discovering new secrets along the way. It launches on 3 August 2023 and is now available to wishlist on Steam.
Gourdlets
The adorable plant village creator Gourdlets was up next. In this cosy building game, you will develop a town for tiny Pikmin-like creatures, then watch as they interact with each other, and go about their day. You can build a coffee shop for them, living quarters, fishing spots, and plenty of other locales. The game is now available to wishlist on Steam.
Angeline Era

Angeline Era got its premiere trailer following Gourdlets – and it immediately made an impact. This game appears to be heavily inspired by JRPGs of the 1990s, particularly Final Fantasy 7, as it features a blocky presentation and action-RPG elements that feel very familiar. Throughout the adventure, you'll explore a strange island of Angels and Fae, discovering hidden secrets as you take on boss fights and dungeon crawls. It's coming in 2024.
Airborne Empire
The next trailer was for Airborne Empire, sequel to Airborne Kingdom. In the game, you'll build a floating city in the clouds, then defend it from sky pirates by deploying a range of strategy tactics. The game launches in 2024.
The Wandering Village
The Wandering Village appeared next in Future of Play Direct 2023. In this colourful city-building sim, you create a settlement on the back of a giant beast, while maintaining relationships with your townsfolk, and their home behemoth. The game is already released, but is getting a major 'Ocean Update' in Summer 2023 [Northern Hemisphere], which will add in a new biome and building opportunities.
Read: Finding hope in city-building games set on giant creatures
Aloft

Aloft is a sandbox survival game where you live on a strange floating island, at the mercy of the elements. As you attempt to grow your lands and survive hardship, you'll discover other floating islands, and start a war with roaming, evil fungi. The game launches in 2024, and a new demo is available to play now.
Future of Play Direct 2023: Highlight Reel
Future of Play Direct 2023 concluded with a highlight reel of upcoming games, including the following titles:
Sushi Ben (VR) – 2023
The Brew Barons – 2023
VIDEOVERSE – Q3 2023
Escape from Mystwood Mansion – TBD
Ascend – TBD
Shashingo: Learn Japanese With Photography – 2023
Communite: Build Together – TBD
Bugaboo Pocket – TBD
Grimfield Mystery – TBD
TOUCHSTARVED – TBD
Slopecrashers – 2024
---
You can now watch the show's VOD on the Future of Play YouTube channel.