After years of waiting, Elden Ring is finally here. It's a moment that's been a long time coming for FromSoftware fans, who weathered multiple delays and a near-four year wait to get to this exact moment in time. With just days to go before the game is released into eagerly-awaiting hands, the official Elden Ring Twitter account has announced just when players will be able to get their hands on the game.
Read: Elden Ring Review – Stay a while, stay forever
Pre-load will go live 48 hours before launch if you'd like to prep your game early (it already appears to be available on Xbox), otherwise you can expect a hefty wait for the day one patch, which should optimise the game and bump up the performance a smidge.
If you're playing the game on console, it will unlock at Midnight Local Time (0:00 am) AEDT meaning you can kick off your adventure and ride on well into the night. Note, it appears 'Midnight Local Time' is only listed for the AEDT time zone, meaning those in other states may get away with playing a few hours earlier, depending on whether Bandai Namco has noted Australia's many time zones (every other region is listed specifically with Midnight Local Time, so stay tuned).
Read: Everything you need to know about Elden Ring
If you're playing on PC, it's a different story – the game will only unlock on PC from 10:00 am AEDT on 25 February.
It's unclear why there's a vast gap between these day one patches, but this is replicated around the world, so at the very least, you won't be alone in the struggle.
Here's how those PC time zones will work out on 25 February:
Sydney, Melbourne, Hobart – 10:00 am AEDT
Brisbane – 9:00 am AEST
Perth – 7:00 am AWST
Darwin – 8:30 am ACST
Adelaide – 9:30 am ACDT
If you're over in neighbouring New Zealand, you'll be able to unlock the console version from Midnight NZDT, and on PC from 12:00 pm NZDT.
You can check out the rest of the global times below: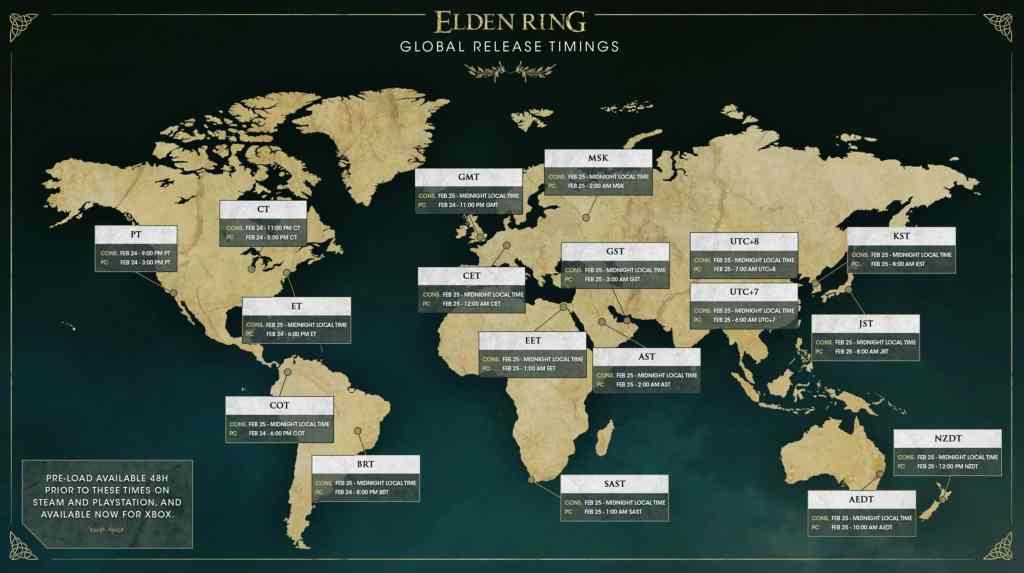 The tale of the Tarnished is so close, you can almost taste it.
Elden Ring launches for PlayStation 4, PlayStation 5, Xbox One, Xbox Series X/S and Windows PC on 25 February 2022.