nDreams
Senior Games Designer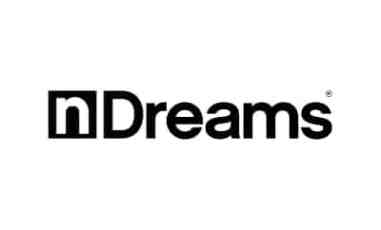 We are nDreams, one of the world's leading developers and publishers focused on VR games.
Combining innovation with excellence, we are the team behind award winning game Phantom: Covert Ops and Fracked. Our AAA experience and sensibilities, alongside bespoke VR technologies, give us the skillset, processes and creativity to deliver innovative, high production games for all VR platforms. We've got several exciting projects planned for the year and beyond – we can't wait to show you more…
Our projects continue to push forward the boundaries of VR and we're looking for talented people to help us turn them into a reality. Our talented studio now has over 100 people and has been assembled from world-leading games developers and publishers.
Requirements
We are looking for a Senior Game Designer who will support the pitch process for our projects that will be presented to key clients. This is an exciting and important role for a designer who knows how to craft and merge key features across multiple game genres.
You will be reporting to the Shared Services Group Manager and working closely with the Creative Director, artists and copywriters.
Key Responsibilities:
Manage the production teams to generate concepts which will be worked as part of the pitching team.
Collaborate and actively participate in discussions with the creative director to decide on the direction and key features that will be incorporated in the pitching presentation.
Work with the pitching team in putting together the presentation design, incorporating the best elements of the game concept.
Help drive the pitch design process through to delivery to the client, showcasing the quality of the projects we work on.
Be receptive of the feedback from the pitch presentation so that reworking of pitches can be done as needed or any future pitches can be fine-tuned towards specific stakeholders.
Thoroughly research industry trends and competition's products.
Design game features and mechanics that align with the creative direction.
Essential capabilities
Substantial experience in a game design in the video games industry.
Demonstrable commercial awareness and a keen focus on what make our products stand out.
Team player who can communicate across multiple teams and levels of seniority to deliver pitches that receive buy in from all stakeholders.
Desired experience
Experience working on AAA titles.
Extensive knowledge of VR games.
Proven presentation skills.
Confident communicator, both written and verbal
Benefits
Our expanding company shares a passion for innovation, collaboration and leading the future of VR. We encourage an open and diverse culture and empower people to explore ideas and put their own stamp on their work. With humble beginnings of our own, we combine amazing projects and opportunities with a personal, caring touch.
We offer some great perks, including flexible hours, duvets days, your birthday off, dedicated personal development time, and regular socials and parties, alongside holiday, pensions, health insurance, life cover and more. Our newly refurbished office has some fantastic facilities and is built around collaborative work (and play!).